"Bigger Than Hula Hoops?"

MUCH BIGGER! This page may contain MAJOR SPOILERS For the Movie and/or Stage Productions of Little Shop Of Horrors! If you don't want to read/see spoilers then please leave the page.
Mr. Mushnik is the Jewish owner of a failing flower shop on skid row and the boss of Seymour Krelborn and Audrey. His habits tend toward the stingy and dishonest and, because of this, he is often thought of as the tertiary antagonist, after Audrey II and Orin.
1960
Mushnik's family has been in the florist business for years, but he himself is not fond of the profession, and considers closing the store. This version of him has a thick Russian accent.
1986
Mr. Mushnik considers closing the shop due to the bad business, but after seeing how a customer reacts to Audrey II, encourages Seymour to help the plant grow, and even treats Seymour more kindly afterwords.
However, he witnesses Seymour disposing of the body of Orin Scrivello, D.D.S, and goes to arrest Seymour, only to decide to try and blackmail Seymour instead. However, he is eaten by Audrey II.
The Play
In the stage musical, after realizing that there is very little keeping Seymour from leaving Mushnik's Skid Row Florists and taking his newfound fortune and success with him, Mushnik decides to try to adopt Seymour as his son. He proposes the adoption in the klezmer/tango tune "Mushnik and Son." Seymour accepts, and the shop is soon renamed "Mushnik and Son's Skid Row Florists."
Mushnik also tries to convince Seymour to willingly go to the police to ease his conscience after feeding Orin to Audrey II, since there is enough evidence to lock Seymour up, but Seymour tricks Mushnik into climbing into Audrey II.
Other
He returns in the TV Show Little Shop as the only unchanged character.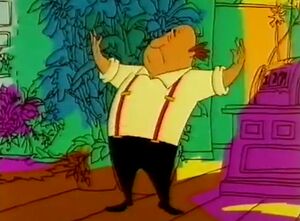 He was portrayed by Mel Welles in the 1960 film, and Vincent Gardenia in the 1986 film.
Revealed in the trading card pack of the DVD of the film the first time it came out, there is a large picture in gold frame that has Mr. Mushnik, which was supposed to be in the deleted scene of "The Meek Shall Inherit".
Mushnik is not in the original ending of the 1986 film, as he was eaten before the part where the film would have changed the finale.
Original Script Character Description
The original script offers a character description of Mr. Mushnik, as follows:
"Their Boss.[Audrey and Seymour] A failure of an East Side florist. His accent, if he has one, is more that of middle class New York than of Eastern Europe. He seldom smiles but often sweats."[1]
References
↑ Ashman, Howard (1982). "Little Shop Of Horrors", p. 8. Samuel French, Inc. New York. ISBN 0573681821